3 December 2015
Tags:sports, sports news, fox sports, sports watch,
---
Former Manchester United manager Sir Alex Ferguson has backed Gary Neville to be a success at Valencia.
Neville was named manager of the La Liga side on Wednesday where he will join brother Phil, who was one of two interim bosses in position after Nuno stepped down from his role last week.
Ferguson has had his say on the appointment and he was unequivocal in his support for his former player.
"Gary has many attributes that suggest he will be successful in management. His leadership skills are strong, he's honest and he's hard working," Ferguson told Sky Sports News HQ.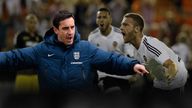 What can Neville expect at Valencia?
From opening fixtures to Valencia's key players – we look at what Gary Neville can expect in Spain.
"He is the type of character who is not afraid of making big decisions, which is a vital skill when leading. I think he'll do well and I wish him, and his brother Phil, good luck."
Former Sky Sports expert Neville will be unveiled to the media on Thursday afternoon (3pm, UK time), with his first match in charge coming against Lyon in the Champions League on Wednesday.
Tags:sports, sports news, fox sports, sports watch,
---
Sports see also….
Kobe Bryant Announces His Retirement From Basketball
30 November 2015
Basketball star Kobe Bryant announced his retirement from the game on Sunday, Nov. 29, writing a ….read more
---
I'm not worried about peaking early, says Barcelona coach
29 November 2015
Barcelona coach Luis Enrique says he is not worried his team will suffer the same fate as Real Madrid last season….read more
---
Cristiano Ronaldo stars before Real Madrid face Shakhtar Donetsk storm
26 November 2015
Real Madrid, who had already sealed a place in the last 16 of the Champions League, ensured top spot in Group A….read more
---
In Madrid, tensions run high before El Clasico
21 November 2015
Tensions will be running higher than ever when Real Madrid host bitter rivals Barcelona for the opening La Liga….read more
---
VIDEO: Stunning goal scored for Mexico in World Cup qualifier
19 November 2015
The Mexican winger scored the goal of the day yesterday in a World Cup qualifier against Honduras….read more