28 October 2015
Tags:news, business news financial news, australian news, live news
---
Father-and-son fugitives Gino and Mark Stocco have been arrested after an extensive manhunt in Australia.
The men were arrested in Dunedoo, in the central west region of New South Wales, police said.
They are wanted in connection with several violent crimes and have been on the run for eight years, in a case which has gripped the Australian media.
A large operation to catch them was launched after they allegedly fired at officers 10 days ago.
Police say a body has been found on the property where the men were arrested.
It is believed to be of a 68-year-old man who has been missing since earlier this month. The cause of death has not been established.
'Resourceful individuals'
The 58-year-old and the 35-year-old have, between them, previously been convicted of a series of crimes, including assault, theft and fraud.
There were also several warrants issued for their arrest over alleged property damage, but the men had eluded police for years, relying on odd jobs and their own keen survival skills.
Police called them "modern day bushrangers" and, according to ABC Australia, "fairly resourceful individuals".
It is thought they may have changed their vehicles' number plates and their own appearance, several times, to evade capture.
Public warnings
New South Wales police said the men were arrested "following a covert operation involving officers from Western Region, New England Local Area Command, the Tactical Operations Unit, Aviation Support Branch, and State Crime Command's Robbery and Serious Crime Squad" and that no shots were fired and no-one was injured during the arrest.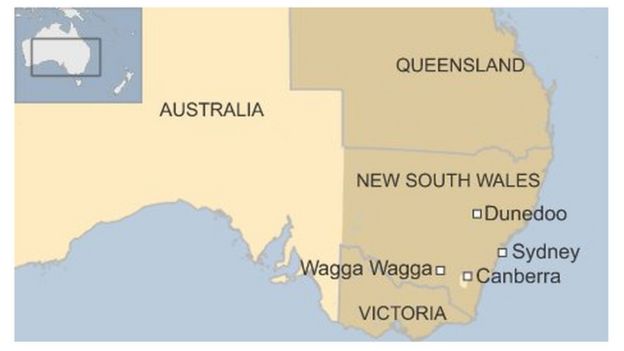 The manhunt began when the Stoccos were accused of firing at police with a high-powered rifle during a car pursuit on 16 October, having failed to pull over in Wagga Wagga, New South Wales.
They evaded capture, only for the chase to resume when police spotted their silver Nissan again. Once again they eluded police before abandoning their vehicle.
The police warned the public that the men were armed and dangerous, and advised against picking up hitchhikers during the manhunt.
Two days later a local man reported his Toyota LandCruiser stolen, and the hunt began again, moving to northern Victoria after the vehicle was apparently spotted there several times.
But the vehicle again evaded police after being spotted on Thursday near the town of Castella, as it was travelling too fast for police to safely chase them.
Later that day, a vehicle of the same appearance and registration plates reversed into a police vehicle in St James, also in northern Victoria, during a routine traffic stop. After initially saying they did not believe the wanted men were in the vehicle, police later said they thought they were.
The two men were spotted several times again over the weekend, as they headed back into New South Wales, before they were finally caught by police and surrendered at an isolated location in Dunedoo.
They were being taken to the police station in Dubbo to be charged.
Tags:news, business news financial news, australian news, live news
---
Global News see also….
NSA warns of growing danger of cyber-attack by nation states
27 October 2015
The deputy director of the US National Security Agency (NSA), Richard Ledgett, has warned of the increasing….read more
---
Balkan, EU leaders agree to coordinate on migrants(Video)
26 October 2015
European leaders agreed to cooperate to manage migrants crossing the Balkans but offered no quick fix to….read more
---
US Oklahoma 'drunk driver' kills four people
25 October 2015
A car travelling at high speed driven by a suspected drunk driver has crashed into a crowd of spectators during….read more
---
At least 40 dead after collision between bus and truck in France
23 October 2015
PARIS – At least 40 people, mostly elderly tourists starting off on a day trip, were killed Friday when a bus and….read more
---
Chinese diplomats shot dead in Philippines restaurant attack
21 October 2015
Two Chinese diplomats have been killed and a third wounded after a woman opened fire at a restaurant….read more