14 November 2015
Tags:news, business news financial news, australian news, live news
---
France has declared a national state of emergency and has closed its borders after at least 40 people were killed in multiple gun and bomb attacks in Paris.
At least 15 people were killed at the Bataclan concert hall, where gunmen took up to 60 people hostage.
Police have now stormed the venue and killed two attackers, French media say.
Others died in attacks near the Stade de France, with some reports suggesting a suicide blast, and at restaurants in central Paris.
Paris residents have been asked to stay indoors and military personnel are being deployed across the city.
The deadliest attack appears to have targeted the Bataclan concert hall. The BBC's Hugh Schofield says scores of ambulances have arrived at the scene, suggesting many victims inside.
Other attacks hit neighbouring Le Petit Cambodge and Le Carillon restaurants in the 10th district where a BBC reporter could see 10 people lying on the road, either dead or seriously injured.
And an eyewitness told Liberation newspaper that he had heard more than 100 rounds being fired at La Belle Equipe cafe in the 11th district.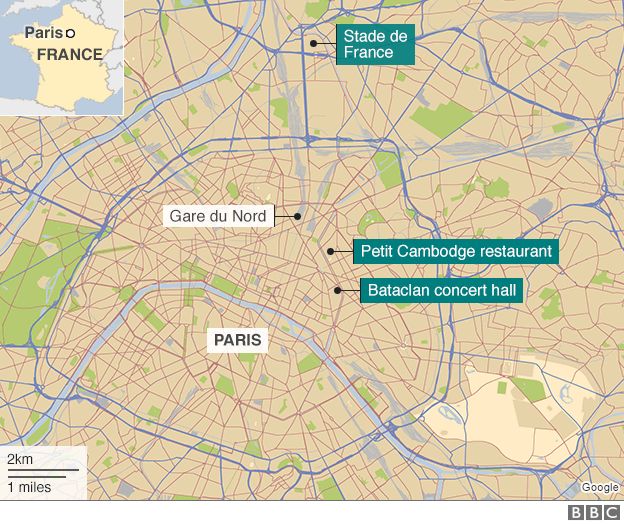 US President Barack Obama spoke of "an outrageous attempt to terrorise innocent civilians".
UK PM David Cameron said he was shocked and pledged to do "whatever we can to help".
Tags:news, business news financial news, australian news, live news
---
Global News see also….
'Major disturbance' and fires at Christmas Island detention centre(Video)
9 November 2015
Inmates have lit fires at Australia's Christmas Island detention centre in a "major disturbance" that is….read more
---
Myanmar to vote in first contested election in 25 years
8 November 2015
Voters in Myanmar are due to cast their ballots in a general election – the first openly contested poll in 25 years….read more
---
Indonesia volcanic ash grounds tourists for third day
5 November 2015
Tourists and travellers in Indonesia have been stranded for a third day, as volcanic ash has forced the closure….read more
---
United States: Eight Things We Learned From The Detroit Bankruptcy
3 November 2015
Detroit's historic trip through Bankruptcy Court ended in December 2014 with the confirmation of the City's Plan….read more
---
21 refugees dead, with more double tragedy in the Aegean Sea
30 October 2015
Dramatic scenes were noted in the Aegean as 14 refugees lost their lives in a ship wreck between Kalolymnos and….read more