9 November 2015
Tags:news, business news financial news, australian news, live news
---
Inmates have lit fires at Australia's Christmas Island detention centre in a "major disturbance" that is yet to be resolved, say government officials.
The immigration department confirmed in a statement that guards had been withdrawn for "safety reasons".
Medical, educational and sporting facilities have been damaged.
The statement denied a "large-scale riot" was taking place but said the situation at the centre for refugees and asylum seekers was "tense".
The Christmas Island centre also houses New Zealanders facing deportation from Australia.
Inmate's death 'sparked riot'
The unrest started after a group of Iranian inmates began protesting about the death of an Iranian Kurd, Fazel Chegeni, who had escaped from the facility on Saturday, said the statement.
Mr Chegeni's body was found at the bottom of a cliff on Sunday, it said. A report on his death was being prepared for the coroner.
"While peaceful protest is permissible, other detainees took advantage of the situation to engage in property damage and general unrest," said the officials.
It said a number of small fires had been lit within the complex.
"A group of detainees, believed to be non-citizens whose visas have been cancelled under mandatory cancellation provisions, continue to agitate and cause damage to the facility," it added.
"There are no reports at this time of any injuries to detainees or staff."
Ian Rintoul, of the Refugee Action Coalition group, told the Sydney Morning Herald that Mr Chegeni was "suffering the effects of long-term arbitrary detention".
"He had told other detainees that he could no longer stand being in detention and just wanted 'to go outside'," he said.
'Fires everywhere'
ABC News earlier quoted a 25-year-old detainee, Matej Cuperka, who said he feared for his safety.
"They are starting fires everywhere … they have broken into the canteen, into the property area," Mr Cuperka was quoted as saying.
"There are cars full of officers driving around the complex. They are just having a look through the window, but nobody is helping us."
Greens senator Sarah Hanson-Young said the Christmas Island centre was "in meltdown".
"I have spoken with people who are locked up in the centre and they say that there is widespread unrest and fires across the facility," Ms Hanson-Young said.
"With all Serco guards being removed from the centre late last night, the people who are locked up there are being left to fend for themselves."
Ms Hanson-Young said she was concerned that asylum seekers had been locked up with other detainees, putting them "at risk".
"The government was warned repeatedly about the increasingly toxic situation on Christmas Island but, regrettably, those warnings were ignored," she said.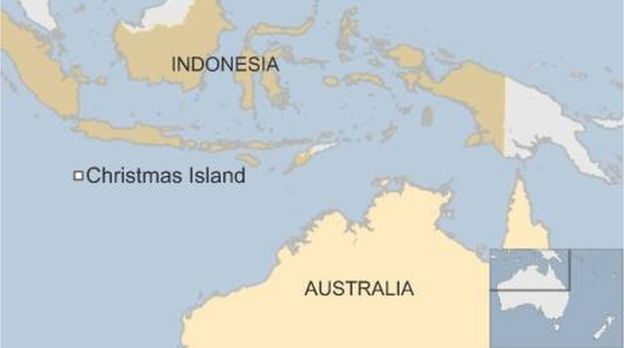 Controversial policy
Australia sends intercepted asylum seekers to Christmas Island, a remote outpost 2,650km (1,650 miles) north-west of Perth and 380km south of Java in Indonesia.
Others are sent to Manus Island in Papua New Guinea and Nauru in the South Pacific.
The government says the journey the asylum seekers make by sea to reach Australia is dangerous and controlled by criminal gangs and they have a duty to stop it. Critics say opposition to asylum is often racially motivated and is damaging Australia's reputation.
Its policy was branded a "disaster" by Human Rights Watch's Australia director in July. The group also raised concern over conditions at the Manus camp.
Last February, an Iranian man was killed during a riot at the camp on Manus. The trial of a Salvation Army worker and a camp guard accused over his murder restarts later this month.
The number of New Zealanders held on Christmas Island has increased since Canberra began cancelling visas of those with criminal records.
Tags:news, business news financial news, australian news, live news
---
Global News see also….
Myanmar to vote in first contested election in 25 years
8 November 2015
Voters in Myanmar are due to cast their ballots in a general election – the first openly contested poll in 25 years….read more
---
Indonesia volcanic ash grounds tourists for third day
5 November 2015
Tourists and travellers in Indonesia have been stranded for a third day, as volcanic ash has forced the closure….read more
---
United States: Eight Things We Learned From The Detroit Bankruptcy
3 November 2015
Detroit's historic trip through Bankruptcy Court ended in December 2014 with the confirmation of the City's Plan….read more
---
21 refugees dead, with more double tragedy in the Aegean Sea
30 October 2015
Dramatic scenes were noted in the Aegean as 14 refugees lost their lives in a ship wreck between Kalolymnos and….read more
---
Stocco fugitives caught after Australia manhunt
28 October 2015
Father-and-son fugitives Gino and Mark Stocco have been arrested after an extensive manhunt in Australia….read more