17 August 2015
Tags:news, business news financial news, australian news, live news
---
A bomb has exploded close to a shrine in the centre of the Thai capital, Bangkok, police say.
Local reports suggest at least 12 people have died and at least 20 more have been injured.
The BBC's Jonathan Head, who is at the scene, says there is a huge amount of chaos, with body parts scattered everywhere.
The attack took place close to the Erawan Shrine in the capital's central Chidlom district.
The explosion occurred at about 19:00 local time (12:00 GMT), with police saying it may have been caused by a motorcycle bomb.
No-one has yet said they carried out the attack.
Some reports said foreign tourists may have been among the casualties.
The Bangkok Post quotes police as saying at least one more bomb has been made safe by officers in the Ratchaprasong area.
'Burnt motorbikes'
Our correspondent says this is a very well-known shrine in the centre of Bangkok, next to a five-star hotel.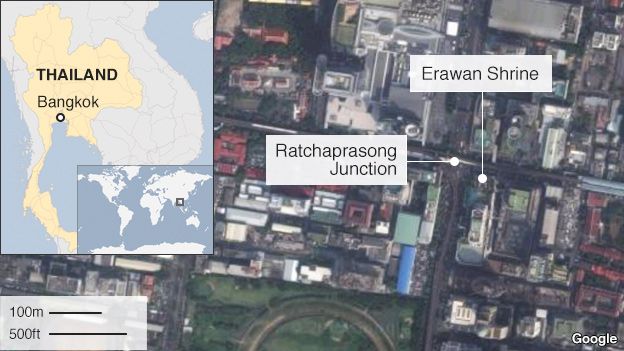 He says people around the shrine were hit by the full force of the blast.
There are burnt motorbikes on the main road, with paramedics and police trying to take the injured away, he says.
The shrine is to the Hindu god Brahma, but is also visited by thousands of Buddhists each day. There are also three major shopping centres nearby.
National police spokesman Lt Gen Prawut Thavornsiri told Agence France-Presse news agency: "I can confirm it was a bomb, we can't tell which kind yet, we are checking."
The explosion was on the Ratchaprasong intersection, which has been the centre of political demonstrations in recent years.
Our correspondent says bomb attacks in Bangkok are extremely rare.
There has been a Muslim insurgency, but this has been largely confined to the south of the country and attacks rarely take place elsewhere.
But Bangkok has seen a decade of sometimes violent rivalry between political factions.
The military took over ruling the country in May last year, removing an elected government following months of unrest.
Tags:news, business news financial news, australian news, live news
---
Global News see also….
Parliamentary report blames former Iraq PM, other senior officials for fall of Mosul
17 August 2015
(CNN)A report approved Monday by the Iraqi parliament blames the country's former Prime Minister….read more
---
Indonesian plane missing over Papua region
16 August 2015
An Indonesian plane with 54 people on board is missing in Papua region, officials have said….read more
---
Hillary Clinton hits back at Jeb Bush in Iraq row
16 August 2015
Democratic presidential hopeful Hilary Clinton has hit back at one of her Republican rivals,….read more
---
US flag raised over reopened Cuba embassy in Havana
15 August 2015
The US has reopened its embassy in Cuba more than 54 years after it was closed, in a symbolic step signalling….read more
---
The circle around Harper lands in Duffy trial spotlight
15 August 2015
The evidence in the Mike Duffy trial is moving a lot closer to Stephen Harper and the people….read more