16 October 2015
Tags:fashion, fashion style, women clothing, fashion for men
---
I'm not sure how I first found it — a link click here, a forum scan there — but after spotting a casting notice for America's Next Top Model, I couldn't shake the thought of auditioning.
"Mom!" I shouted into the receiver after frantically dialing home from college. "They're doing a short season of ANTM and I have to try out! You have to come with me!"
The show, which had been my guilty pleasure since its start, planned on switching things up for season 13, accepting ladies under 5'7″, rather than over. Since I'm 5'0″, this tweak in qualifications meant the stars had finally aligned: it was a once-in-a-lifetime chance. I could walk a runway, pose for editorials, and meet. Tyra. Banks.
A few weekends later, my mom and I stood on a two-block-long line in front of an NYC hotel. Waiting to audition, packed tightly in a crowd of curvy, thin, tall, petite, tan, pale, blond, brunette, and redheaded women, I tried to keep my eye on the prize. With my face makeup free — a suggestion from the casting notice — and in mybest off-duty look — a black, long-sleeved t-shirt, jeans, and heels — I felt fate was on my side. I would march in there, strut my stuff, and soon become a star.
Unfortunately, something different was in the cards. Mere footsteps from entering the building — my bladder full, legs aching, stomach growling, and having heard "You look really young!" from everyone I met — a car backfired, sending the crowd into a mass panic (everyone assumed it was a gunshot or explosion). Between all the pushing and running, I was pinned against a wall and before I knew it, my mom was dragging me away, leaving my dream in the (literal) dust.
Luckily, once the media got word of this, anyone who missed out on the experience was invited to a second casting — and The Tyra Show. After taking full advantage of both opportunities (and yes, I walked on Tyra's runway), I was ready to give the whole process another go.
Finally stepping into the audition, solo this time, was surreal. I received a number, and once it was called, I lined up in a room full of women. A mix of different ethnicities, shapes, and sizes — much like the first crowd — surrounded me. Even though this was "the short season," I still felt pretty tiny, standing there in my oversize gray shirt, skinny jeans, and heeled black booties.
"Turn," said one of the judges, who was seated at a long gray table in front of us. We did. "Turn," they said again. Again, we complied. After carefully examining each of us, they shouted out some numbers, mine included, and it was off to the next room, where this was repeated.
While waiting to enter each round of casting, people around me struck up conversation. "I got these heels at a store called Cinderella-something," a redheaded girl told me, pointing to her turquoise pumps. I made a mental note to google it and buy them when I go out. "Wow, she has an interesting look," another said, gesturing toward a thin girl with dark hair, light eyes, and a prominent nose. "Almost like an alien, but I think the judges like that kind of thing." I awkwardly nodded, but then pretended to text, trying to keep to myself.
Once I entered a room with cameras, I was feeling pretty good. Was I about to be on TV? Were we somehow Skyping with Tyra, a rumor that was now being spread through the crowd? Cheerfully, I stated my name, age, and height.
In the end, only three numbers out of 30 were called, and mine wasn't one of them. The women who were picked truly looked like models: tall and thin, the most memorable being an Asian girl with long black locks. After all that, it was over. I wasn't on TV. I didn't meet Tyra. I was done.
No doubt I felt a little crushed, but auditioning did lead to what I assumed it would: a once-in-a-lifetime experience, especially now that the show is in its final season. And, while I'm far from the likes of Kendall Jenner and Gigi Hadid, I do get to put my smize to the test while living out my current dream as an assistant fashion editor, even posing for the occasional photo shoot.
But do I still want to be "on top," as those famous song lyrics go? Not exactly. But having the ability to combine my love of writing, fashion, and, yes, posing, it sure feels like I am.
Tags:fashion, fashion style, women clothing, fashion for men
---
Fashion see also….
Christopher Kane stripped bare
14 October 2015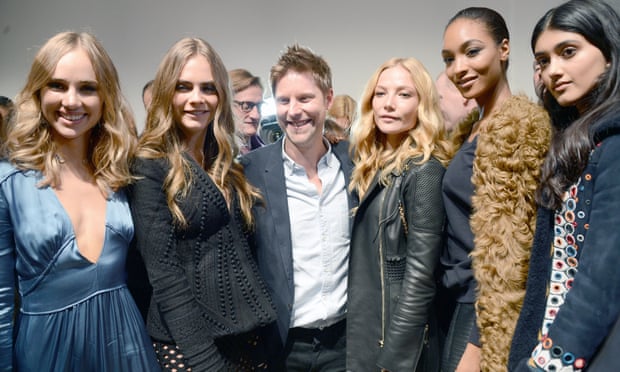 Christopher Kane is quoting Winston Churchill to me. This is not how I thought this interview would go….read more
---
Introducing the 'roadtrip' – fashion's brave new haircut
12 October 2015
Forget Kate Middleton's choppy bangs. A pair of nail scissors might be this season's secret accessory:….read more
---
What I wore this week: glam geek
10 October 2015
We haven't got all that long so, in the interests of saving time, may I assume you've all had the Margot….read more
---
Men's parkas: five different looks – in pictures
8 October 2015
The parka is a winter staple that never dates. Whether you choose a traditional army-surplus style or….read more
---
Thoroughly modern Stella McCartney muses over real women
6 October 2015
The idea of the artist and their muse influenced the designer's Paris fashion week show, but her interpretation….read more