31 July 2015
Tags:celebrity, celebrities, news, live news
---
At least, this argues in his new report the american magazine Us Weekly.
According to the magazine, in the last spring, the couple hired a 28 year old girl named Christine Ouzounian, through one of the best agencies of Beverly Hills, in order to work as a nanny and take care of their three children (Violet, 9 , Seraphina, 6 and Samuel, 3 years old). But always according to the publication, the 42 year-old Ben Affleck and the young nanny began to flirt and be out on their own, without the kids, so that Jennifer irritated and  not only she dismissed the girl, but she left home. Friend of the nanny says that she believes that Ben real loves Christie and the two of them have not stopped for a moment to communicate throughout the sensational divorce which was announced a month ago.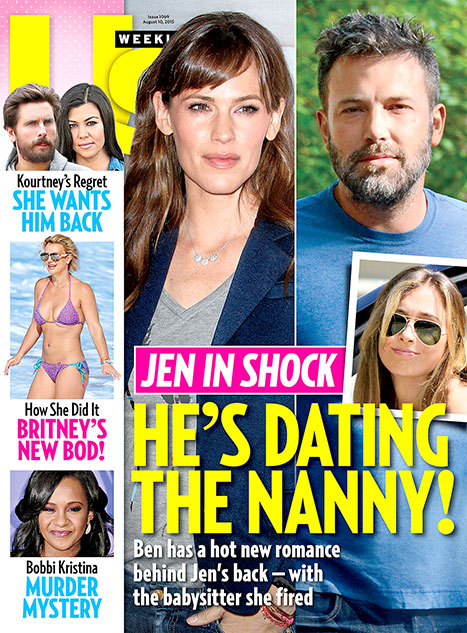 Tags:celebrity, celebrities, news, live news
---
Celebrity News see also….
Brad Pitt shaved and looks like young again [images]
29 July 2015
For many months (if not years) Brad Pitt marketed with beards and long hair sometimes….read more
---
Tom Cruise in a lip sync battle with Jimmy Fallon [Video]
29 July 2015
The actor Tom Cruise continues his public appearances to promote his new movie Mission Impossible and….read more
---
Jennifer Lopez out of clothes for her 46th birthday [images]
28 July 2015
What if J Lo became 46 years old, she decided to celebrate perhaps wearing the sexiest dress she had….read more
---
Are Rihanna and Lewis Hamilton couple?
27 July 2015
After his separation from Nicole Scherzinger, the press has pulished few of Lewis Hamilton partners….read more
---
Is the daughter of Whitney Houston dead? The hearse in the garden at Sanatorium creates rumors [pictures]
27 July 2015
Family members of Bobby Kristina Brown gathered on Thursday, amid fears that….read more