16 August 2015
Tags:business, business news  financial news, business finance, small business websites
---
To at least one candidate, there was no question who the biggest star of the day was.
"She had a crowd one-tenth of what I have," Trump bragged to reporters, in a reference to Clinton, as he made his way across the fairgrounds amid a sweaty, sprawling crowd that encircled him.
The size of the mob of media and fair-goers following Trump was among the largest ever to track a presidential candidate on the grounds in recent history. In fairness to Clinton, her entourage was restricted a bit by security concerns.
"Stick to your guns, Trump, stick to your guns," one man yelled at the Republican front-runner. Similar shouts were continually directed at Trump as he walked, periodically stopping to talk to reporters and pose for photos with fans.
Wearing cream-colored slacks, bright white shoes and a dark sport coat, Trump looked like he was dressed more for a golf tournament than an afternoon at the fair amid 87-degree temperatures. His red baseball cap, emblazoned with his "Make America Great Again" slogan, helped make him visible even when engulfed by people.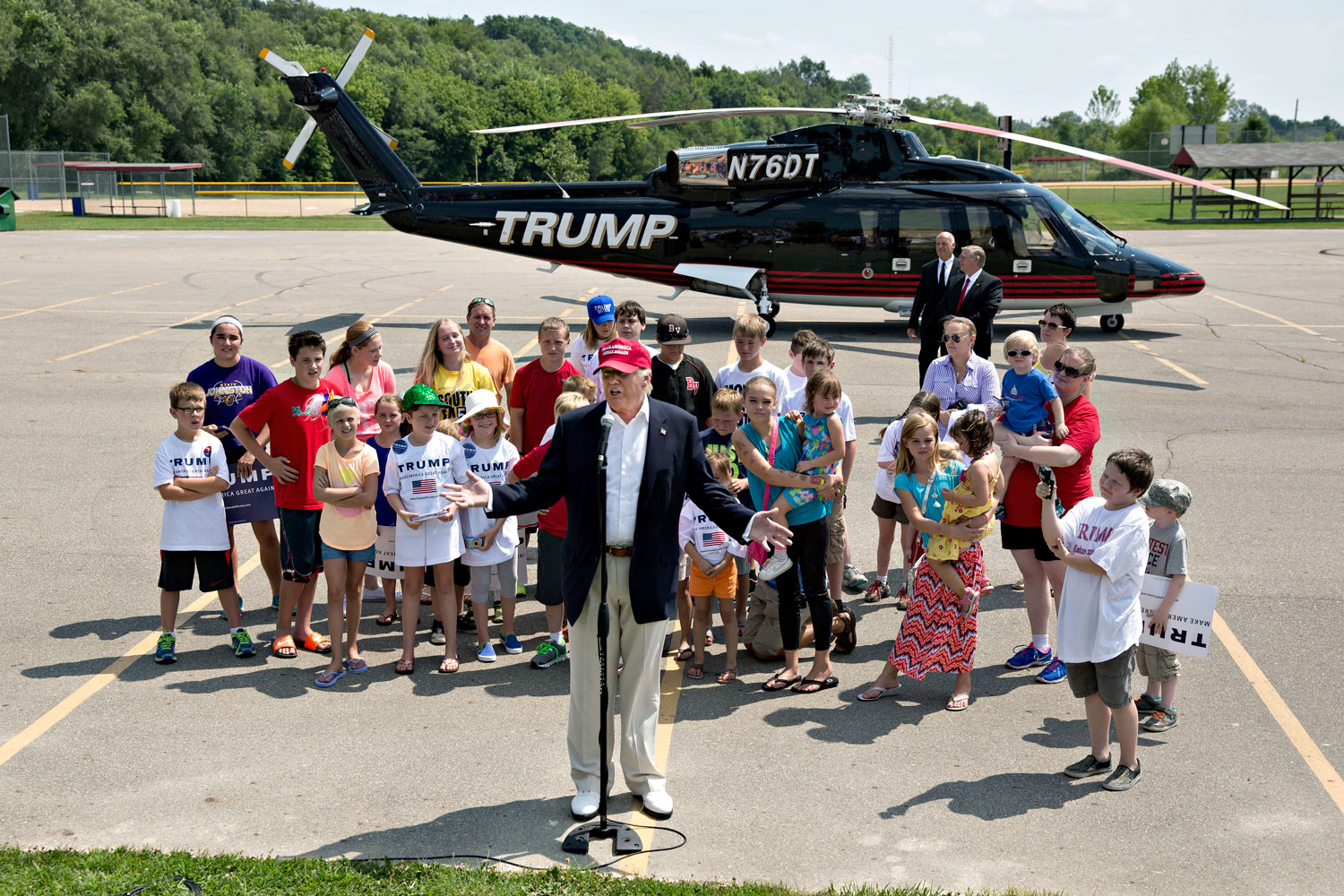 Along with other local officers and Trump's own security detail, Major Randy Kunert, a large and good-natured Iowa State Patrol officer, tried to enforce a sort of roving crowd control.
"If I touch you, you are too small for the rides," the 6-foot-3-inches-tall Kunert jokingly yelled, as his long arms sprawled out in a spread-eagle fashion to direct people to clear a path for the entourage.
Trump offered relatively few handshakes or hugs. He didn't make Iowa small talk with the locals as most politicians do, or answer policy questions, instead mostly reveling in the size of the crowd around him. While his staff had said Trump would visit the butter cow, the Iowa Fair's iconic sculpture, he bypassed the stop, leaving some waiting for him there disappointed.
Clinton spent roughly twice as much time as Trump at the fairgrounds — about 95 minutes. She toured with a Hawkeye host, former Senator Tom Harkin, who endorsed her earlier this week. Briefly taking questions from the media, she again defending her use of a private e-mail account while at the State Department and deflecting a question about any mistakes she's made during her four-month-old campaign by saying, "I'm just having a good time."
On any other day of this year's fair or in any other year, the former first lady, former New York senator and former secretary of state, and her escort, an Iowa political icon, would've been the top attraction. They were still a major draw, but the shadows of the curiously coiffed man Clinton referred to on Friday night as the Republican Party's "flamboyant front-runner" seemed to one-up them. As Clinton and Harkin made their way through the fair's crowds, they encountered some people who were waiting for Trump.
As Clinton walked through a row of food tents, Trump's helicopter circled above, noticed by her staffers, journalists and fair-goers. Clinton later told reporters that she hadn't noticed because she was too engaged with potential voters.
Surrounded by a phalanx of Secret Service agents and state troopers, Clinton and Harkin, wearing a straw hat, posed for photos and chatted with fairgoers. Amid the grip and grins, there were some gripes.
As Clinton waded through a mass of onlookers, one shouted: "Are you worried about going to prison?"
As Clinton neared a tent offering pork chop-on-a-stick — an item both she and Trump sampled — one fair-goer groaned: "Hillary, get out. We don't want a politician. We want a pork chop line!"
Pork chop in hand, Clinton posed for selfies with the workers who'd handed it to her before taking a bite. "I highly recommend it," she told reporters.
After a few more minutes of working her way through the crowd, Clinton and her entourage reached a black SUV. She climbed in, pork chop in hand.
Other presidential candidates on the fairgrounds Saturday included Chafee, a Democrat who is a former Rhode Island governor, and Santorum, a former senator from Pennsylvania who won Iowa's Republican caucuses in 2012.
Trump arrived at the fairgrounds after Clinton. The real estate mogul landed his Trump-labeled helicopter in the parking lot of softball field about a mile south of the fair.
He told reporters he thinks Clinton has "big problems" in relation to the e-mails, but he kept most of his focus on his fellow Republican candidates.
Trump said former Florida Governor Jeb Bush is a "puppet to his donors" and criticized him for saying a day earlier at the fair that Iraqis want to know the U.S. has "skin in the game" when it comes to increasing American troop strength in order to stabilize the country.
"We've spent $2 trillion, thousands of lives lost, wounded warriors, who I love, all over the place, and he said we have to prove that we have skin in the game," Trump said. "I think it may be one of the dumbest statements I've ever heard."
Trump said he planned to unveil his ideas for immigration policy on Sunday and will issue a paper on tax policy in about two weeks. But Trump added that it's mostly the media that cares about policy. Pressed later on the fairgrounds about that, he told reporters: "The voters trust me. They know I have good decision-making ability."
At his news conference, Trump showed no contrition for any of the controversies he's stirred since joining the presidential race in mid-June.
"I don't think I've made mistakes," he said. "Every time somebody says I made a mistake, they do the polls and my numbers go up, so I guess I haven't made any mistakes."
After answering reporter questions, Trump took a few local children — and two reporters — onhelicopter rides.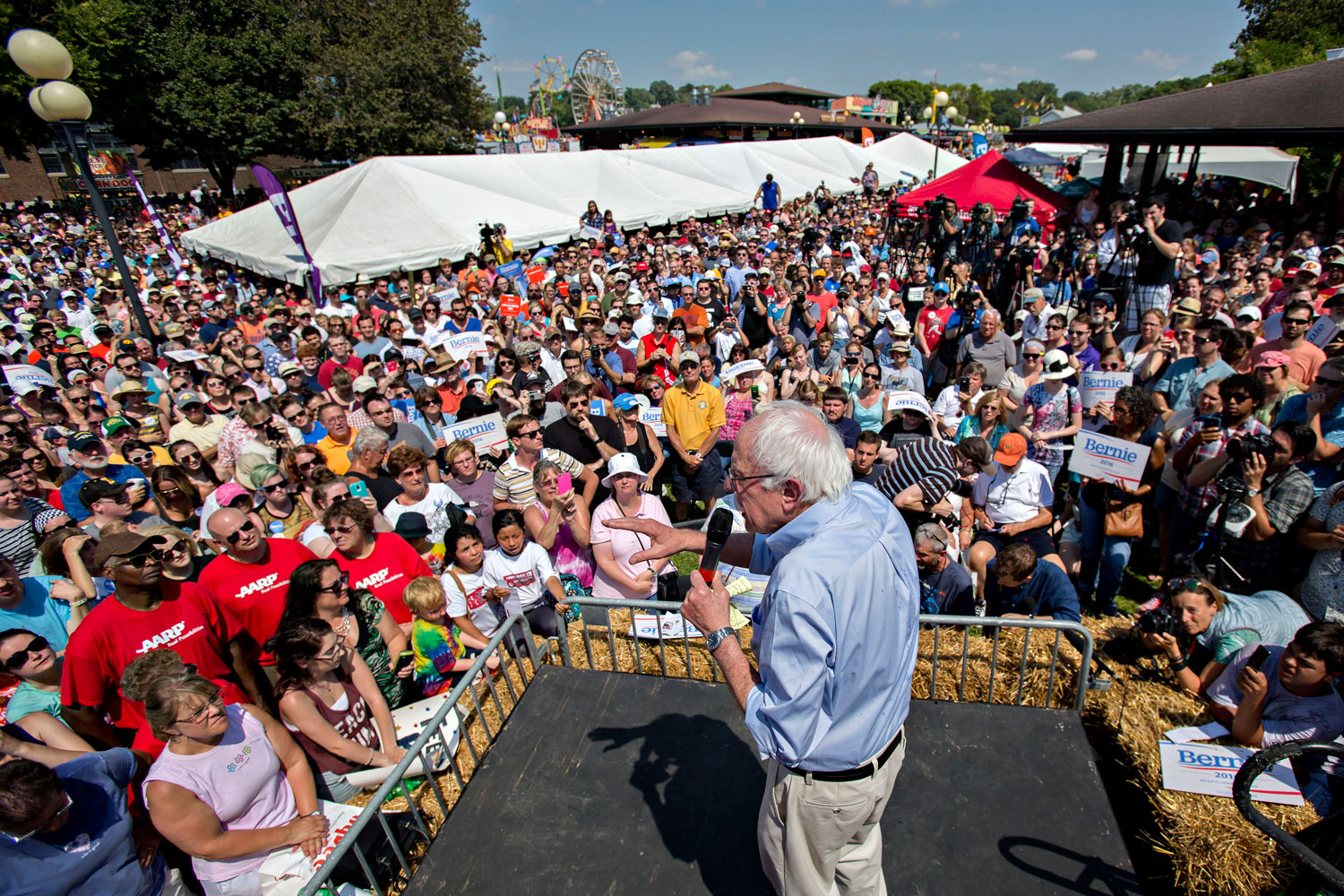 Sanders, the socialist senator from Vermont challenging Clinton for the Democratic nomination, made note of a helicopter over the fairgrounds during a speech he was giving.
"I apologize," he joked from the Des Moines Register's political soapbox. "We left the helicopter at home."
While Sanders attracted the largest crowd yet this year at the newspaper's stage, he scored relatively little media attention at the fair. It's hard to compete with a billionaire celebrity and his helicopter. Even a Clinton learned that lesson on Saturday.
Tags:business, business news  financial news, business finance, small business websites
---
Business see also….
VW Has Spent Two Years Trying to Hide a Big Security Flaw
15 August 2015
Got a VW, Fiat, Audi, Ferrari, Porsche or Maserati? Then you might want to check the model….read more
---
IMF Calls China's Yuan Moves Welcome Step to More Flexible Rate
15 August 2015
The International Monetary Fund said China's move to link the yuan's value to market forces is ….read more
---
'Flash crash' trader freed on bail
15 August 2015
A UK trader accused of contributing to the 2010 US "flash crash" has been freed on bail after his conditions….read more
---
Australia's biggest bank posts record results
13 August 2015
The Commonwealth Bank of Australia has posted a record full year net profit of A$9.1bn (£4.2bn, $6.6bn)….read more
---
Kraft Heinz announces 2,500 job cuts
13 August 2015
Kraft Heinz has announced it is cutting about 2,500 jobs in the US and Canada following its recent merger….read more