28 June 2015
The ground beneath the Vatican and secrets hiding, have occasionally sparked dozens of scenarios and theories.
A big underground city with caches, secret passages and labyrinthine galleries, composes one of the most spectacular scenery mystery ever existed!
The "curse" of the Saint and the "strange" coincidences.
The assumption that there are bones of the Apostle Peter, for centuries remains a big question mark. Although the only historical reference that supports that St. Peter was martyred and buried in the basement of the Vatican from Gaius and dates back to 200 AD, though for Catholics is almost certainly!
A belief which led Constantine the Great in the construction of St. Peter's Basilica, at this point.
In 1624 began early research in the Vatican galleries, to search for the bones of the Apostle Peter, but they did not last long, they were accompanied by a series of "strange" coincidences:
The Pope Urban VIII fell ill, dozens of workers mysteriously lost their lives, while gradually prevailed the belief that the Saint did not want to disturb the peace and so send a curse on anyone who dared to annoy him! That fear, stopped for at least 300 years each research area.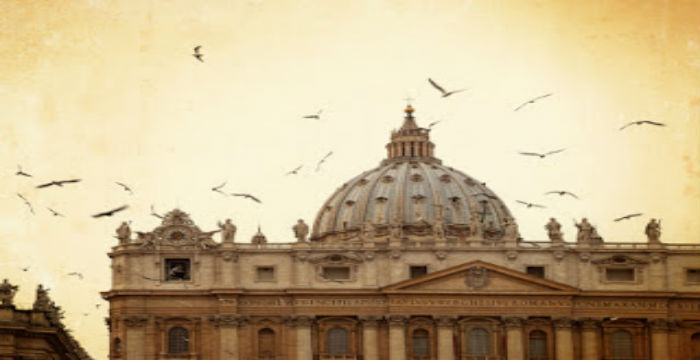 The ancient writings with big secrets!
Huge libraries spanning tens of kilometers below the earth Vatican, allegedly containing an unimaginable treasure since there are few people believe, that among the books that are hosted in them, are ancient writings that are considered lost or remain unknown to the general public !
Texts if ever be released will reveal secrets and truths that will forever change the history of mankind!
The necropolis popes and early Christians
Just under the Basilica of St. Peter, is the "cemetery of the Popes", while a little further are buried many Christians. The necropolis Underground Vatican, became widely known through the book of Dan Brown «Illuminati».
The famous "snake hole" mentioned in the book and in fact is "pipes funeral libations," described vividly by the author:
"The Christians believe in the resurrection of the dead, so they used these holes to feed the dead, pouring milk and honey in the crypts beneath the Vatican," he writes.
Source: apocalypsejohn.com